Always looking for the best solution
The need varies per country and even per region. Providing the construction world with raw materials and at the same time realizing nature plans. Tackling pollution. Watermanagement. Strengthening contracting combinations. Smals is up for the challenge.
An organization you can rely on
Commitment to our customers and to society is the cornerstone of our business. We are an open organisation We are an open organization and deliver guaranteed quality. –
01.
Promise one:

straight to the point
02.
Promise two:

clear language
03.
Promise three:

a deal is a deal

TONNES OF CONSTRUCTION SAND PRODUCED IN 2022 OUT OF THE 17 MILLION TONNES REQUIRED ANNUALLY IN THE NETHERLANDS.
A family company that adapts to economic and social developments has plenty of stories to tell. But figures tell a story too. But figures tell a story too.
DREDGING: 6.222.800 cubic meters in 2022.
Customers: award rating 9 EXTREMELY SATISFIED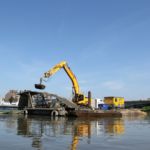 We can offer equipment for all kinds of dredging activities, including the necessary manpower and advice.
OUR TRUMP CARD: SUCTION DREDGERS THAT CAN BE TRANSPORTED BY ROAD