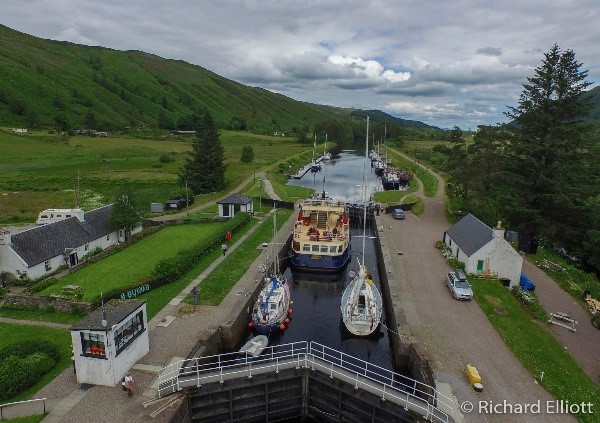 Dredged sediment for multiple purposes
Near Laggan, in the Scottish Highland, the Caledonian Canal is partly blocked by significant amounts of sand and gravel. This sand and gravel comes from a steep mountain stream, that flows directly into the canal via the Laggan Spout. The sediment trap (Stilling Basin) in the stream is overwhelmed during heavy rain storms and significant volumes of sand and gravel can be deposited in the Caledonian Canal in a short period.
Leisure boats and other recreational vessels use The Caledonian Canal to travel across Scotland from coast to coast. Smooth passage of the Canal nearby the waterfall at Laggan Spout is currently blocked by the sand and gravel. Water traffic has to slow down and be cautious not to get stuck.
It is the specialty of Royal Smals to remove these kind of obstructions and to clear the adjacent area of significant amounts of silt and sand. We take on the challenge to fulfill the obligation to reuse all dredged sediments, although the dredging area is not even accessible from the shore!
A nice opportunity for Smals to show the authority in charge, the Scottish Canals, its special approach of sustainable dredging and dewatering techniques, and restore the original design depth in this part of the Caledonian Canal. Large quantities of sediment (approx. 20% very coarse material and approx. 80%  very fine sand and silt) will be removed to achieve the designated design level of the Caledonian Canal.
Smals will not only dredge and deposit the sediment, but will also separate it into multiple reusable fractions.
In collaboration with the partners (Scottish Canals, framework contractor Mackenzie Constructions and Royal Smals) a sustainable dredging and separation method is developed, which results in the 100% reuse the dredged sediment in the beautiful environment with a lot of biodiversity and eco life.
A flexible and small 10 "cutter suction dredger (fully transportable by road) will be hoisted into the canal at the Loch Lochy lock and will dredge the area.
MacKenzie Construction will create a temporary dewatering location on adjacent agricultural land, just above the Laggan Spout. At this location, a separation installation including a space for temporary storage of the dewatered and collected partial flows will be installed.
The cutter suction dredger will pump the sediment from the Caledonian Canal along the Laggan stream into this separation installation, using a 400 meter long 10" HDPE pipeline. The installation will separate the dredged sediment in 3 substreams: gravel, sand and silt.
The gravel will be used to repair or build gabion walls along the dike of the Caledonian Canal (identical to the original dike). Coarser sand will be reused in regional civil projects or (road) construction works. The fine sand / silt is used to raise the lower parts of the existing agricultural land, hereby increasing the drying capacity of the land after (excessive) rainfall.
The work will start early spring 2021. Through the right partnership, this fully circular project is an example for sustainable dredging solutions.